This keeps on happening.
And because it's so repetitive and so over-worked, I'm reluctant to even discuss what it is that keeps on occurring. But the whirlwind of rage that swirls within me each time I encounter an apologist statement presented under the guise of feminism keeps on a-swirlin', and as such, I feel as though the only thing left for me to do, is to open my big fat mouth too.
So apparently, we're in the midst of a 'white women exploiting the bodies of black women for 'lols' and credibility' epidemic. We know this. It has been done. I do not wish to give a comprehensive list of the reasons why the Miley's, the Iggy's and the Lily's of the world are wrong for willingly complying with the commodification of black bodies…or for pleading 'not a racist bone in my body syndrome' when confronted about their complicity in racism because A) I'm tired of talking about them and B) the problem is much bigger than these women.
Nor will I extensively criticise the black male celebrities who, recognising profitable situations at hand, (and in turn completely disregarding the interests of black women), shamelessly and eagerly step up to the role of 'universal black friend' to all those in need of a scapegoat when defending the clearly harmful images of black women that they've played a part in relaying to worldwide audiences. And although it would be in my best interests to do so, I will not go on to expand on the aforementioned point by exploring the seemingly continual failure of black men to support black women when they are faced with race-specific sexism…mostly due to the fact that I want to talk about this in a separate post…because once again. This is bigger than Miley, Iggy, Lily and whoever else feels like pissing me off next week.
What I do want to discuss at length however, is the tendency for a great deal of bloggers, journalists and otherwise to disregard genuine criticisms, criticisms that come from a specifically anti-racist angle, in a bid to make a score for white feminism.
Because when people approach this: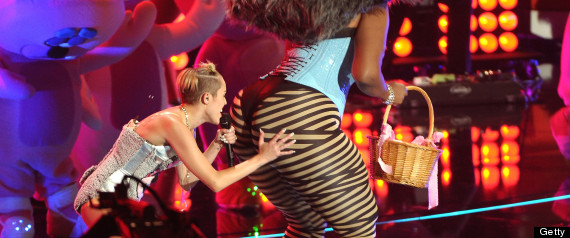 or this: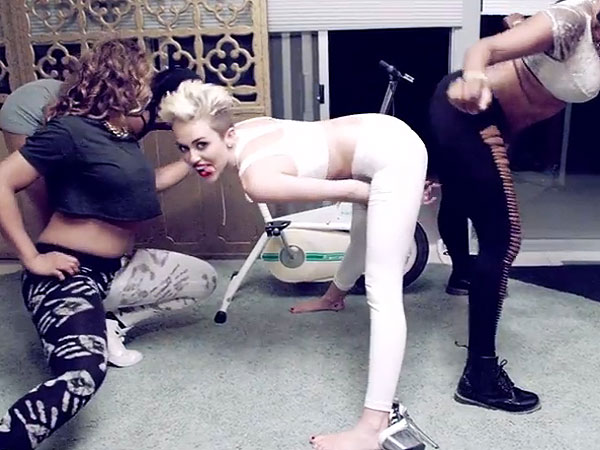 Or this:
or this:
or this:
or this:
from explicitly anti-racist as well as anti-sexist slants…these grievances, like it or not, become feminist issues. They are not necessarily attempts to shift the blame from men onto women where the exploitation of black women in popular culture is concerned, they are not veiled attempts to shit on women for daring to be different, they are not distractions from the 'bigger picture', they are valid concerns.
Should Miley be attacked for expressing her sexuality? No. Of course not. Should Iggy Azalea's place in hip hop culture be disputed purely because she is a white woman? No. Should she completely exclude black people from her videos/shows to avoid controversy? No. Should Lily Allen's attempts (although problematic even when excluding the obvious issue at hand in her latest video) to relay feminist ideals to mainstream audiences be completely dismissed? No. In part, all three of these artists have made bold statements in aid of feminism..but where two artists use black female bodies as evidence for their authenticity in hip hop culture and means of "standing out" and the other comes out against the exploitation of women…by exploiting women of colour, really now, whose feminism is it?
Call me crazy, but when one woman completely rubbishes my existence and validity in favour of her own, it no longer feels like my feminism. When I become nothing but an incarnation of sex, of inappropriateness, of excess, of thickness, black bum, black thighs…an emblem of coolness that merely serves as an accessory to give you edge and leave me indistinct, it is not my feminism. When your efforts, no matter how positively they affect one group of women, simultaneously crush another, it is your feminism and your feminism only. And it frustrates me so much when people fail to see that.
So when a 'feminist' message compromises my well-being and I challenge it, I am not engaging in senseless in-fighting. I am not trying to tarnish the name of an otherwise positive movement. I am fighting for my rights because no one else will. Being minutely progressive is not an achievement if it harms others. It would be like me, a black woman, calling for the fair treatment of so-called 'black women', while preventing those who aren't cisgender, heterosexual, non-disabled (or in any way removed from the type of experience that I have as a person) from benefiting from this 'fair treatment' and still expecting acclaim from the very women I harmed through exclusion.
It makes very little sense.
And at this point, I am slightly more sick of seeing people argue from that warped standpoint, than I am of the celebrities that have sparked this debate…
Actually no.
They're all equally annoying.